"Being a mom gave me a new perspective on life".  This well-known statement is often heard from new parents and I was no exception.  Before I became a mother, I didn't care too much about what I ate or about what skin care products I used on my body.  However, after becoming pregnant everything changed.  Knowing that there was a tiny human being growing in my belly, my husband and I started to become much more careful about what we ate and what skin care products we used. I knew that whatever went into my body as food or was applied to my skin, could possibly affect my baby.  As you would expect I started to choose organic food and natural skin care products.  Although these products were pricey, when I thought about eliminating possible harmful risks to my baby, it was worth it.  
I used to live in Vancouver, and the good thing about living there was that there was already a great deal of awareness about natural health and beauty.  This tends to make Vancouver a hot spot for natural products. However, my problem was that since there were so many options and new items coming up every few months, I had never used the same items again.  I was always in search of something "better"… until I discovered Nia Pure Nature products. 
I first found Nia Pure Nature products at a health fair about two years ago in Ottawa. I had already heard about them because my friend (who is allergic to pretty much everything) made a post about "Moringa
Oil" as the best oil ever on her Facebook page.  Nevertheless, I was skeptical.  After years of searching for better skin care products, I didn't have high expectations for Nia Pure Nature until I saw Amina Badar, the owner of the company.  My first impression was that she looked too young to have her own company!  However, from her obvious intelligence and the maturity of her manner and speech, I soon realized that she might not be in her 20s as I had first guessed.  My husband and I were really shocked when she told us her age (and it still amazes me).  She looked at least 20 years younger than her real age!  Yes, that was moment, without hesitation, that we decided to try her Moringa Oil and Moringa powder since we wanted to look young and healthy like her.
Nowadays I believe that tags like "Organic" "non-GMO," "Eco" and "Fair Trade" are commonly seen in natural products.  Therefore, when I saw these labels on her products it did not convince us to try them.  Instead it was Amina's youthful appearance that first led us to use all her Moringa Oil skin care products.  The result?  It was magical!  I stopped using toner and lotion altogether on my face and now I only use Moringa oil in the morning before I put on my makeup and before I go to bed.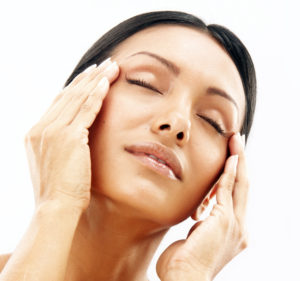 I can see a tremendous difference on my skin especially on days when I go to bed looking tired.  When I wake up my skin is rejuvenated as if I had just had a facial done at a spa.
Moringa seed oil has been scientifically studied by medical professionals and Nia's Moringa Oil has collagen building plant ingredients, vitamin A & E for nourishing and toning the skin, cytokinins for cell growth, 72% oleic acid that deeply moisturizes the skin, 46 types of antioxidants to reverse sun damage, and 36 anti-inflammatory agents to reduce acne and pimples.  
Amina, who is a chemist worked for Health Canada for 15 years as a regulator of dangerous chemicals that are found in food and skincare products, explains, "Moringa leaf powder contains a high amount of zeatin, a vegetable hormone that allows the fast regenerating cells like the skin cells to stay young. It actually offers 1000 times more zeatin than any other plants.  Humans also produce zeatin, however as we get older we produce less and consuming regularly moringa helps the skin cells stay young. In addition, by using Moringa seed oil regularly one notices an improved skin elasticity which appears younger, and radiant. This is due to the fact that the moringa oil penetrates the skin to moisturize the lipid layer responsible for moisture retention".  This explains why it is so effective! 
In addition, Nia's Moringa Oil and other beauty products in their line contain no alcohol, no chemicals, no skin irritants, but just 100% pure cold-pressed Moringa oil from the seeds and pure extracts.  Thanks to my lucky discovery of Moringa Oil skin care products, my journey of constantly looking for something better has ended.  I am satisfied with Nia's skin care products and now it is my turn to get the question, "Aren't you too young to be working for Nia Pure Nature company?".
By Masako Kobayashi, newspaper reporter, columnist, and published author. 
– http://makoogura.com/english.html
References:
https://www.ncbi.nlm.nih.gov/pmc/articles/PMC5146848/
http://researchonmoringa.blogspot.com/2012/09/moringa-nutrient-for-skin.html
http://researchonmoringa.blogspot.com/
https://www.researchgate.net/publication/260210731_Effect_of_Moringa_oleifera_on_undesireble_skin_sebum_secretions_of_sebaceous_glands_observed_during_winter_season_in_humans
https://www.researchgate.net/figure/Effect-of-zeatin-on-long-term-growth-and-longevity-of-human-skin-fibroblasts_fig1_7938398