MORINGA has been widely used across the globe for generations to support health from head to toe and inside and out. Slowly making its way to health food stores as a superfood, it's easy to understand why supplement shelves are stocked. Moringa is best known in western cultures as a nutritious tonic but WebMD cites a plethora of reasons to use the "miracle tree" ranging from increasing breast milk production to combating kidney stones. I want to shed light on moringa and its uncanny ability to help me navigate through even the most stressful day with a smile. Moringa is a miraculous energy booster.
Mind-Mind-blowing moringa is full of protein, vitamins, and minerals. Living in today's stressful society often means juggling long hours between work, family, and friends. More often than not, fast food and a java jolt help fuel life.
Moringa is the perfect caffeine and sugar-free way to put a little pep in your step. Moringa is magical, helping increase concentration and focus. I truly feel an increased sense of vitality and overall well-being when I add moringa to my morning smoothie.
Stimulant free moringa will not adversely affect blood pressure, heart rate, and insulin levels. Scary mood swings are avoided while still sustaining stamina. There's absolutely NO crash leaving you begging for more. Riding the roller-coaster of caffeine withdrawal often leaves a migraine. Swapping stimulants for moringa filled mornings is energizing.
From a holistic health perspective, overall rise in one's vitality may be the direct result of all the beautiful B's! Most stress addressing energy-boosting protocols involves taking a daily B complex. Moringa is unique, containing 5 essential B vitamins. The Vitamin B family increases the absorption of magnesium and potassium, therefore, helping ease depression and anxiety. Beat the blues and energy soars! Thiamine is particularly noteworthy as it converts sugar into energy.
NiaPure is freeze-dried, not sun-dried, ensuring it's potency remains. The proof is easily seen in NiaPure's vibrant lush chlorophyll-rich green hue.
Energy is enhanced when we thrive alive in an alkaline state. Moringa is a key antioxidant, fighting free radicals in the body. Keeping the level of acidity low throughout the body reduces inflammation and once again….energy surges!
Iron-rich moringa enables oxygen-rich blood to be easily transported into muscles, organs, and tissues! Whether you walk, run, hit the gym or yoga studio, moringa is loaded with building blocks of a protein referred to as amino acids. Fueling muscles with nutrients before and during a workout helps prolong calorie burning, muscle building and happy hormone (serotonin) releasing. Post-workout Niapure can be added to a protein shake creating the perfect tonic to help replenish and restore cells. Moringa is nature's own answer to popular sports supplement called branched-chain amino acids or bcaa's. Healthy fit bodies are energetic and ready to face whatever life brings.
Moringa is synonymous with effervescence.
Moringa by NiaPure is organic and everything our body craves. It's holistic health on the cellular level.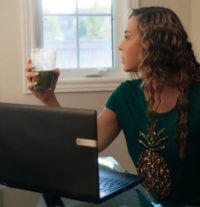 Mercedes Kay Gold – a Holistic Certified Practioner and Certified Mobile Trainer living and working in Toronto. Her writing has been featured in various publications and on health-related websites. She spends her free time public speaking, educating and enjoying her sons.