The Ultimate Skincare Multitasker for Busy Moms
Hey busy moms and not-so-busy moms! We know that finding the perfect skincare routine can be a challenge, especially when you're juggling a million things. But fear not, because Nia Pure Nature is here to save the day with our affordable and all-natural skincare products that actually work!
The cleanser
Let's start with the holy grail of skincare routines: the cleanser. And boy, do we have a treat for you! Introducing our Nia Qasil cleanser, a gentle yet effective powerhouse that will revolutionize your skincare game.
This pH-balancing cleanser is like a superhero for your skin. It effortlessly removes dead skin cells and even the toughest makeup, all while being gentle to your precious peepers. No more panda eyes, ladies! 



The Qasil Leaf and it's multitude of benefits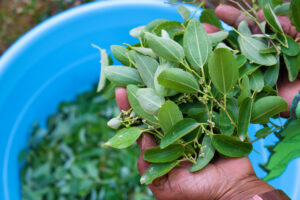 What sets our Qasil cleanser apart? Well, it is its magical ingredient: Qasil Leaf. Sourced from the wild Gob tree in Somalia, qasil contains saponin, a natural compound that cleanses and soothes the skin. It's like a little vacation for your face, leaving it feeling refreshed and rejuvenated.




Additional ingredients to our cleanser
But wait, there's more! We've added aloe vera to the mix, a skin-soothing ingredient that reduces inflammation, calms redness, and keeps your skin glowing like a radiant goddess. It's like a spa day in a bottle, minus the hefty price tag.
To make your cleansing experience even more luxurious, we've included chamomile, known for its calming properties. This gentle flower helps to nourish your skin and bring out your inner zen. And for an extra boost of goodness, we've thrown in beetroot and corn-based non-irritant ingredients to ensure a thorough cleanse without any harshness.
Qasil Cleanser: The ultimate skincare multitasker
The best part? Our Pure Qasil cleanser is a true multitasker. It does it all: cleanses, exfoliates dead skin cells, and tones your lovely face in just one application. It's the ultimate time-saver for all you fabulous multitasking moms out there!
No matter your skin type, even if you have skin as sensitive as a diva, our Pure Qasil cleanser has got you covered. It respects your skin's natural barrier and protects its precious oils, giving you that radiant glow you've always dreamed of.


Nia Pure Nature's Organic Moringa Oil
After using our amazing Qasil cleanser, we highly recommend following up with our nourishing Nia Pure organic moringa oil.
Packed with vitamins A and E, this little gem provides the protection and hydration your skin craves. It's like giving your skin a big, cozy hug.Simplify your skincare routine to get amazing results
So, busy moms, take a deep breath and let our Nia Pure Qasil cleanser do the work for you. Say goodbye to complicated routines and hello to a simplified, multitasking skincare solution. Your skin will thank you for the extra love and care, and you'll have more time to focus on what truly matters – being the amazing mom that you are.
—————————————–
By Amina Badar    
Chemist, scientific evaluator, author, and founder/CEO of Nia Pure Nature Inc.