Forest fires can have far-reaching effects on respiratory health, as evidenced by recent smoke plumes from fires in Quebec reaching Ottawa, Gatineau, and surrounding areas. Even areas far from the fire's origin can experience challenges in maintaining good air quality and healthy breathing.
Understanding the Impact of Forest Fire Smoke on the Respiratory System:
Forest fire smoke consists of harmful particles and gases, including particulate matter, carbon monoxide, nitrogen oxides, and volatile organic compounds. Inhalation of these pollutants can irritate the respiratory system, leading to symptoms such as coughing, wheezing, shortness of breath, and chest discomfort. Individuals with pre-existing respiratory conditions like asthma, bronchitis, or COPD (chronic obstructive pulmonary disease) are particularly vulnerable, as smoke exposure can worsen their symptoms and overall respiratory health.
Preventative Measures for Dealing with Smoke Exposure:
To minimize exposure to smoke, it is advisable to remain indoors, particularly for individuals with pre-existing vulnerabilities. If possible, seek areas with better air quality, such as by the river or among trees, as these areas often have higher air quality levels than other locations.
Staying hydrated is also important, as it helps maintain the body's overall well-being and supports respiratory function. Special attention should be given to the respiratory conditions of children and pregnant women, as they may be more susceptible to the effects of smoke exposure. Taking proactive measures to create a smoke-free environment and monitoring their breathing conditions is essential for their health and well-being.
Nutritional Considerations for Respiratory Health: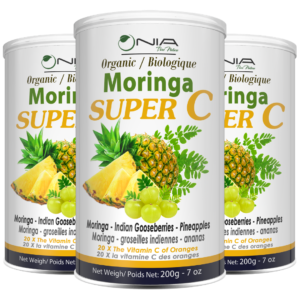 During periods of increased stress on the respiratory system, it is crucial to prioritize nourishment and provide the body with essential nutrients. High-quality whole foods, such as the organic
Moringa Super C , can offer valuable nutrients and minerals that support overall health. Antioxidants play a crucial role in combating the inflammation caused by smoke exposure. Consider incorporating antioxidant-rich foods and supplements into your diet, such as vitamin C-rich fruits and vegetables, moringa , and other plant-based sources of antioxidants. These can help counteract oxidative damage and reduce inflammation in the respiratory system.
Our MX7 RespirAssist can help during this period to alleviate respiratory issues or as a prevention. It is an all-natural herbal blend specifically designed to alleviate symptoms associated with respiratory issues like asthma, bronchitis, and the common cold. It contains a combination of beneficial ingredients, including lobelia, fenugreek, barberry, stinging nettle, ginkgo biloba leaf, feverfew, and Panax ginseng. (The benefits of these ingredients are shown below) These herbs contribute to promoting healthy lung function, increasing circulation to constricted areas, and reducing symptoms associated with respiratory distress.
Forest fire smoke can have a significant impact on respiratory health, even in areas distant from the fire's origin. To support healthy breathing during such times, Nia Pure MX7 RespirAssist offers an herbal blend specifically formulated to alleviate respiratory symptoms. Alongside herbal support, it is important to prioritize a nourishing diet, including whole foods and antioxidants. Additionally, taking preventative measures such as staying indoors, seeking areas with better air quality, and remaining hydrated can help mitigate the effects of smoke exposure.
1. Lobelia, known for its bronchodilator properties, helps relax the airway muscles, making breathing easier. It can alleviate bronchial spasms and promote healthy lung function in conditions like asthma and bronchitis.
2. Fenugreek has mucolytic properties that help break down and thin mucus, relieving congestion and promoting clear airways. It also possesses anti-inflammatory effects, reducing inflammation in the respiratory system.
3. Barberry contains berberine, which has antimicrobial and anti-inflammatory properties. It can alleviate respiratory infections, reduce airway inflammation, and act as an expectorant to remove excess mucus.
4. Stinging nettle has anti-inflammatory effects and can reduce the body's histamine response, alleviating allergy symptoms. It may also act as a bronchodilator, improving breathing.
5. Ginkgo biloba leaf extract protects lung tissues from oxidative damage caused by pollutants and may improve lung function and reduce inflammation.
6. Feverfew, known for its anti-inflammatory and analgesic properties, can reduce airway inflammation and alleviate symptoms such as coughing and wheezing.
7. Panax ginseng is an adaptogenic herb that enhances respiratory endurance, reduces airway inflammation, and improves lung function.

It's important to note that while these herbs have a history of traditional use for respiratory benefits, individual results may vary. It is recommended to consult with a healthcare professional as they can provide personalized advice based on your specific health needs and potential interactions.