When it comes to achieving healthy and youthful skin, nourishment from within is just as important as the skincare products we apply externally. Our diet plays a vital role in providing essential nutrients that support collagen production, fight against aging, and promote overall skin health. One such superfood that offers a remarkable combination of anti-aging benefits and essential nutrients is Moringa. In particular, Nia Pure Moringa stands out as the perfect blend of skin food, offering minerals, vitamins, amino acids, and the powerful anti-aging phytonutrient zeatin. Let's dive deeper into why Nia Pure Moringa deserves a place in your daily routine.
The Power of Zeatin for Anti-Aging: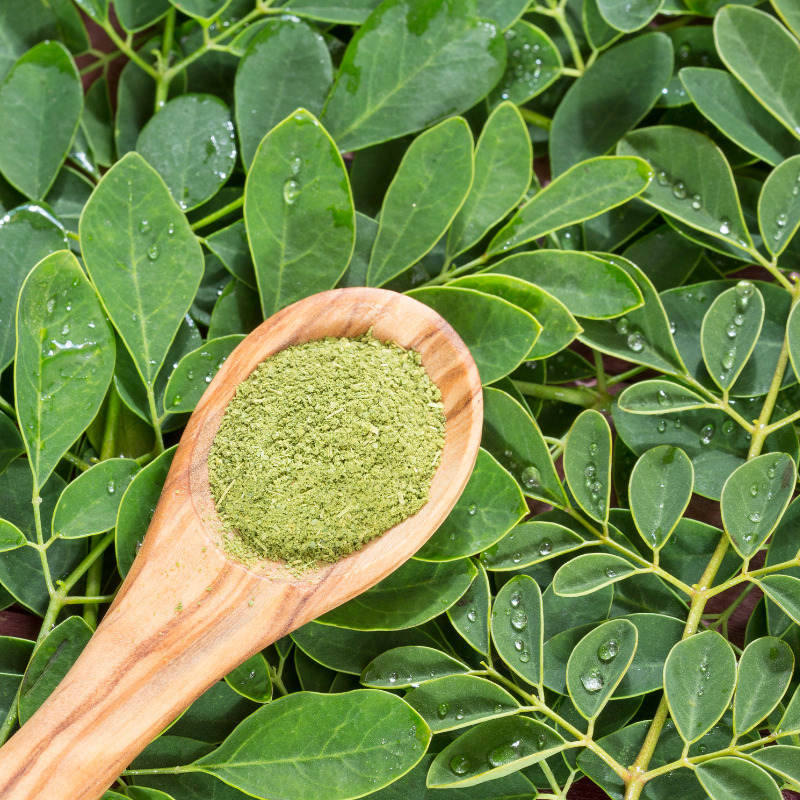 Zeatin, a natural plant hormone found in Moringa, is gaining recognition for its exceptional anti-aging properties. This phytonutrient stimulates collagen production, which is essential for maintaining skin elasticity and reducing the appearance of wrinkles and fine lines. By incorporating zeatin-rich Moringa into your diet, you can support your body's natural collagen synthesis and promote a more youthful complexion.
Food Source Vitamin C for Radiant Skin:
Vitamin C is a well-known powerhouse when it comes to skin health. It is a potent antioxidant that helps protect the skin from oxidative stress caused by environmental factors. Additionally, vitamin C plays a vital role in collagen synthesis, helping to maintain skin firmness and elasticity. Nia Pure Moringa is not only rich in zeatin but also contains a natural source of vitamin C, making it an excellent choice for supporting radiant and healthy skin.
Collagen Production for Youthful Skin:
Collagen is a protein that provides structure and support to the skin. As we age, collagen production naturally declines, leading to sagging skin and the formation of wrinkles. By providing the body with the necessary nutrients for collagen production, such as zeatin and vitamin C, Nia Pure Moringa can help maintain youthful skin and delay the signs of aging.
Nia Pure Moringa: The Perfect Skin Food Blend:
Nia Pure Moringa stands out as an exceptional skin food blend, packed with essential nutrients and the anti-aging power of zeatin. It contains a perfect combination of minerals, vitamins, and amino acids that support overall skin health and vitality. What sets Nia Pure Moringa apart is its convenient and enjoyable consumption method. Simply add half a teaspoon of this delicious blend into a glass of water, and you can enjoy the benefits of skin food with a great taste.

Nia Pure Moringa is the ultimate blend of skin food, offering a wide range of essential nutrients and the powerful anti-aging phytonutrients, zeatin. By incorporating Nia Pure Moringa into your daily routine, you can support collagen production, fight against aging, and promote overall skin health. With its convenient consumption method and great taste, Nia Pure Moringa is an enjoyable and effective way to nourish your skin from within.
References:
Rattan, S. I. S., & Sodagam, L. (2005). Gerontomodulatory and youth-preserving effects of zeatin on human skin fibroblasts undergoing aging in vitro. Rejuvenation Research, 8(1), 46-57.

Anwar, F., Latif, S., Ashraf, M., & Gilani, A. H. (2007). Moringa oleifera: a food plant with multiple medicinal uses. Phytotherapy Research, 21(1), 17-25.
Hönig, M., Plíhalová, L., Husičková, A., & Nisler, J. (2018). Moringa oleifera: A review on nutritive importance and its medicinal application. Česká a slovenská farmacie, 67(3), 103-108.
Rattan, S. I., Clark, B. F., & Kågedal, B. (2005). Zeatin delays cellular aging by stimulation of protein synthesis. Rejuvenation Research, 8(4), 394-402.
Lappas, C. M. (2014). Zeatin: a novel compound for therapeutic intervention in cancer. Future Oncology, 10(14), 2279-2283.
Choi, H. K., Pokharel, Y. R., Lim, S. C., Han, H. K., Ryu, C. S., Kim, S. K., … & Kim, Y. H. (2009). Zeatin prevents amyloid β-induced neurotoxicity and scopolamine-induced cognitive deficits. Journal of Medicinal Food, 12(2), 271-277.
IBC Laboratory. (n.d.). Zeatin. Retrieved from https://www.ibclabs.com/
Koffi, K. C., et al. (2020). Moringa oleifera Lam. (Moringaceae): A Review of Traditional Uses, Phytochemistry, and Biological Activities. Plants, 9(3): 305.
Pullar, J. M., et al. (2017). The Roles of Vitamin C in Skin Health. Nutrients, 9(8): 866.
Gupta, S. C., et al. (2016). Collagen hydrolysates for skin protection: Oral administration and topically cosmetics application. Journal of Dermatological Research and Therapy, 1(1): 00001.